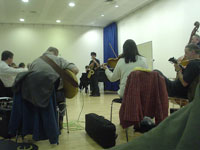 I
f you want to have your brain stretched with private lessons in music theory, composition or technique send e-mail to info@compositionandjazzltd.co.uk or alternatively join the Jazz Workshops based at the Sage-Gateshead.
Students say :
"Feels like my brain melted, but I keep coming back"
"What's harder than hard?"
"Fast, furious, F*!$£%"